TechTeam
Shaiksha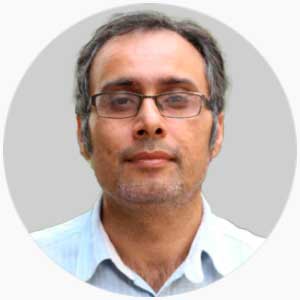 Head – Technical Support Team
Affiliation: Associate Dean, School of Environment and Sustainability; School of Systems and Infrastructure; Senior Lead-Practice, Indian Institute for Human Settlements.
Email: abazaz@iihs.ac.in
Country: India
Amir Bashir Bazaz is Senior Lead-Practice at IIHS. He has a PhD in Management from the Indian Institute of Management Ahmedabad, with a specialisation in Public Systems. He has substantial experience of working with various integrated assessment frameworks and modelling arrangements. His current research interests are low-carbon societies/infrastructure, climate change mitigation and adaptation (across scales) with specific focus on urban climate change linkages and climate, energy and environment policy.
Amir he has been a Contributing Author to the IPCC Special Report on 1.5C (Chapter 4), is Contributing Author to the Feasibility assessment in the AR6 cycle, has been a Lead Author on the Summary for Urban Policy Makers (SUPM), and has been a Lead Author on the Summary for Financial Decision Makers (SFDM). He was also the National Expert Consultant to the Government of India, managing the production and submission of India's Second National Communication to the UNFCCC.
At IIHS, Amir had been the Regional Research Lead for a multi-partner, multi-year climate adaptation research project — Adaptation at Scale in Semi-Arid Regions (ASSAR).
This project was part of an IDRC/DFID funded global climate adaptation research programme — Collaborative Adaptation Research Initiative in Africa and Asia (CARIAA) operational across West, South and East Africa as well as South Asia. In addition, Amir has been a part of many practice-based engagements at IIHS, notably on 'Energy Innovation' in partnership with Cambridge University; and 'GCRF-PEAK program, focusing on sustainable energy transitions in the Urban context' in partnership with Oxford University, Peking University, and the University of Cape Town and EAFIT University, Colombia. He is the Lead Researcher for the Volkswagen Foundation funded multi-country, multi-year RESET project (Reconfiguring Sustainable Energy Transitions) that tracks the energy transition in India, Germany, the Netherlands and South Africa. He also manages the Disaster Risk & Resilience portfolio at IIHS.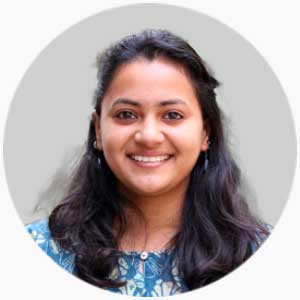 Deputy Head – Technical Support Team
Affiliation: Senior Research Consultant, Indian Institute for Human Settlements.
Email: csingh@iihs.ac.in
Country: India
Chandni Singh has a PhD in International Development from the University of Reading, United Kingdom and works at the interface of climate change and development in the global South. At IIHS, she works on climate change adaptation, drivers of differential vulnerability to climate change and hazards, and rural and urban livelihood transitions. She was a Contributing Author on the IPCC Special Report on Global Warming of 1.5°C and is a Lead Author on the Working Group II Assessment Report 6 (Chapter 10 Asia and Cross-chapter Paper on Cities and Settlements by the Sea).
Chandni is also a Lead Author on UCCRN's Third Assessment Report on Climate Change and Cities, and Contributing Author on the UNESCO-ICOMOS-IPCC "Cultural Heritage and Climate Change" Initiative. She serves on the editorial boards of Regional Environmental Change, Urbanisation, and Climate and Development, and is the 'Vulnerability and Adaptation' Domain Editor for Wires-Climate Change. She has previously worked in research and practice-based organisations such as the University of Reading (UK), Bioversity International, Pragya, and WWF India across South Asia and sub-Saharan Africa. Chandni is also deeply interested in science communication for lay audiences and is a published poet.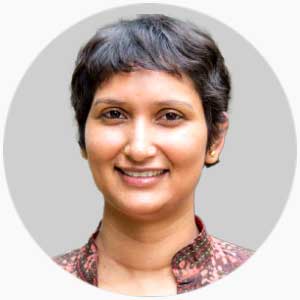 Prathijna Poonacha Kodira
Lead- Programme Management and Consultation
Affiliation: Senior Consultant- Director's Office, Indian Institute for Human Settlements.
Email: ppoonacha@iihs.ac.in
Country: India
Prathijna Poonacha Kodira earned MSc in Human Settlements from Katholieke University, Leuven, Belgium. She is senior consultant with the Director's Office, the Practice team and is a part of the School of Environment and Sustainability. She mainly works with the climate change team.
Her work focuses on understanding climate change impacts and responses in urban and peri-urban geographies both from top-down and bottom-up perspectives. In peri-urban Bangalore, her research looks at how communities are responding to climatic and non-climatic risks in the context of rapid social and ecological changes with a particular focus on gender dynamics. She is also interested in understanding and applying various tools to enable multi-stakeholder participation in decision making especially in the urban context. One such tool is Transformative Scenario Planning which facilitates her interaction with diverse stakeholders to imagine the future of water in Bengaluru.
Prior to IIHS, Prathijna has worked in various organizations ranging from civil society organizations, academic and research institutions in the field of heritage planning and conservation, and design consultancy.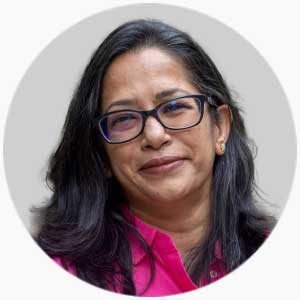 Communications Head for the SUP Series
Affiliation: Head of Communications & Design, Indian Institute for Human Settlements.
Email: pvenkataraman@iihs.co.in
Country: India
Padma is a communications person with 20 years' experience and whose portfolio includes a versatile mix across the spectrum in her field. She has also taught postgraduate students in her capacity as guest lecturer and has mentored teams throughout her stints as part of senior leadership. Padma spent a decade in advertising in India and the UAE, starting off as a copywriter and moving on to servicing,
therefore creating a strong foundation of understanding the impact of both sides, creative and business. She has headed the branches for one of India's largest PR agencies Perfect Relations, first in Pune and then in Bangalore. She then worked with the Motherson Group, headquartered in Noida, India managing Global Communications across 41 countries with a mandate for end-to-end internal and external communications. She has been a freelancer with Indian Express, Pune and Times of India, Bangalore in the earlier days of her career.
Her experience includes strategic communications in PR for a wide array of sectors including but not limited to Automotive, Manufacturing, Corporate, Technology, Agriculture, Retail, Pharma & Healthcare, Insurance, Industry bodies and mandates for Public Affairs and events for the Government. At IIHS, Padma heads Communications and Design and she works with her team to create strategies to build and enhance institutional brand and reputation, engagement and outreach.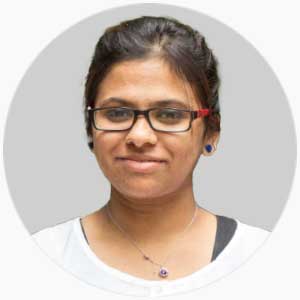 Maitreyi Koduganti Venkata
Assistant – Technical Support Team
Affiliation: Researcher, Indian Institute for Human Settlements.
Email: kvmaitreyi@iihs.ac.in
Country: India
Maitreyi Koduganti Venkata is a researcher with the Practice team at IIHS. She has earned a second Master's degree in Water Management and Governance from UNESCO-IHE Institute for Water Education, the Netherlands. Much of her work in the last six years focused on climate sciences, vulnerability studies, resource management, gender studies, sustainability and Research-into-Use. Her inclination towards action-oriented research have resulted in developing documentaries and participatory games alongside UNCESCO-IHE Delft and Red Cross Red Crescent Climate Centre, South Africa. In the past, Maitreyi has worked with Watershed Organisation Trust (WOTR) and Development Alternatives (DA) in the areas of agrarian studies, climate sciences, stakeholder engagement and watershed development.
At IIHS, she has been part of many climate change adaptation research and practice initiatives. She is also engaged in writing several academic articles, blogs and op-eds around climate change and resource management. She also serves as the president for the Water Youth Network.